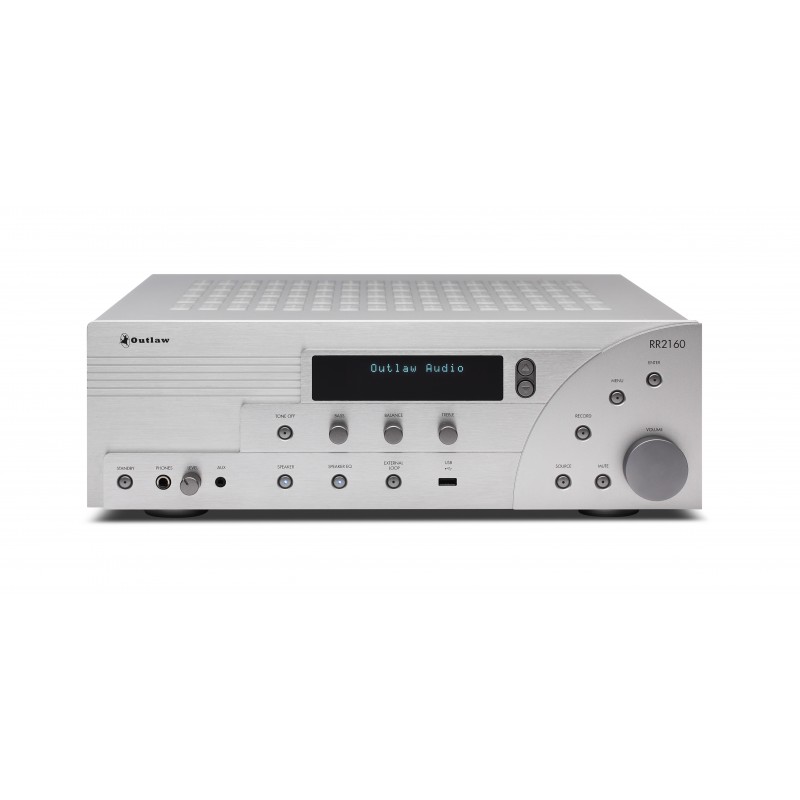 
RR2160 Stereo Receiver
 Out-of-Stock
The RR2160 Stereo Receiver (2X110W) provides the analog performance and sophisticated retro styling of the RR2150 with the digital inputs, HD Radio, and Internet Radio you've come to need!
OUT OF STOCK; ETA NOV. 2020. 
Reviews
"MAKE NO MISTAKE, THE OUTLAW AUDIO RR2160 STEREO RETRO RECEIVER MAY LOOK OLD FASHIONED, BUT IT IS READY FOR THE FUTURE. YOU WILL WANT TO RIDE OFF INTO THE SUNSET WITH THIS OUTLAW!" - Jim Milton, Secrets of Home Theater and Hi-Fidelity

ROB SABIN AND STEVE GUTTENBERG DISCUSS THE RR2160 ON SOUNDANDVISION'S "Pixels & Bits No. 3" 
•State-of-the-art stereo receiver

•High performance HD Radio
FM Stereo/FM/AM tuner

•Multiple inputs with separate record output bus

•USB-B input for Hi-Res playback from compatible computers

•High quality phono input for both moving magnet and moving coil cartridges

•Processor/equalizer loop

•Subwoofer output that includes selectable, analog bass management

•Front panel "speaker equalization" selector adds a half-octave of bass boost at a choice of frequencies to improve performance with compact bookshelf speakers

•Headphone jack with level control

•Front panel stereo mini-jack input for easy connection to portable devices such as iPod®

•Internet Radio

•5V DC Accessory Power for external devices

•USB-A Input for connecting
thumb-drives

•2 Digital Coax Inputs

•2 Digital Optical Inputs

•Tone control defeat

•Precision volume control

•A/B Speaker Output

•Pre-Out/Main-In connections

•IR In/Out jacks

•Removable IEC style power cord

•All Aluminum remote control
Data sheet
Analog Inputs

4

Decoding

No

Digital Inputs

2 Coax; 2 Optical

Input Sensitivity

High Level: 200mV/47kohms MM Phono: 3.3mV/47kohms MC Phono: 0.6mV/47kohms

Power Output

110 watts per channel, 20 Hz - 20kHz, 0.05% THD, both channels driven into 8 ohms 165 watts per channel, 20 Hz - 20kHz, 0.05% THD, both channels driven into 4 ohms

Signal to Noise

96dB