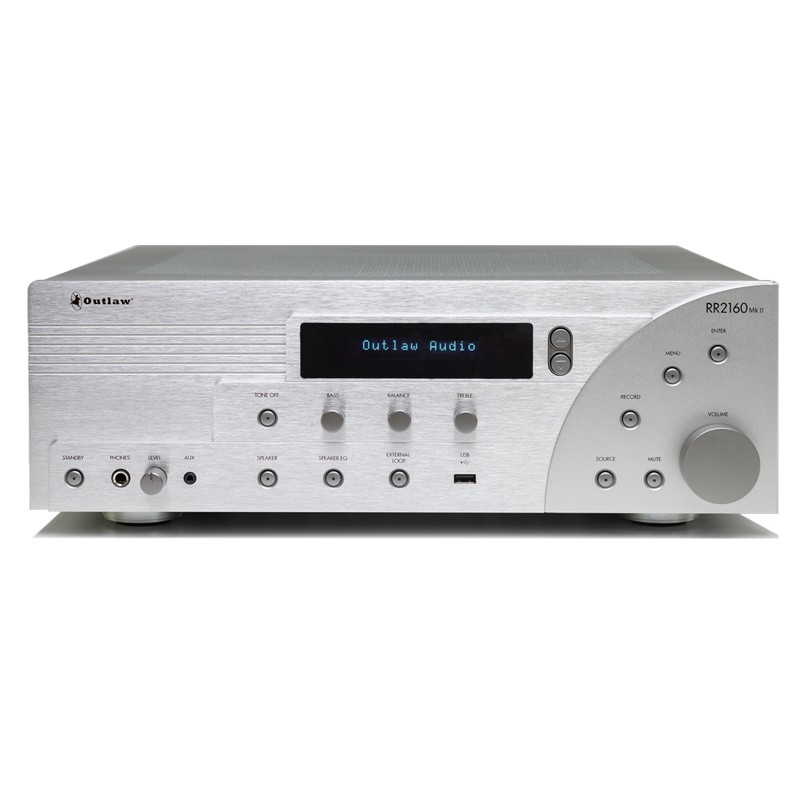 
RR2160MkII Stereo Receiver
Outlaws all over America praised our RR2160. The smooth playback and the art-deco design resonated with those of us still spinning singles, EPs, and LPs. A superb phono pre-amp, four pure analog audio, line level inputs, a Burr Brown DAC, and updated Internet Radio with built in WiFi...it may have taken us a bit to produce the Mark II, but all good things come to those who wait.
Instructions, and disclaimers, for downloading and installing the Android and iOS app can be found in the Guide:

Outlaw Audio Player Guide
Reviews (Non MkII Version)
Our new, reinvigorated interpretation of a classic stereo receiver: the RR2160MkII provides clean, neutral, and accurate playback. As a fan of classics, we'll begin and end this in a similar way as we did when we released our RR2150, over a decade ago:
The RR2160MkII delivers solid, no-compromise two-channel performance. As a product designed for music listening, even the most demanding musical peaks are not a problem thanks to ample filter capacitor reserves.
We built this receiver for those who still love sitting back and watching a record spin; for the Outlaws who enjoy the album art and listening to a record from start to finish; for the enthusiast who has bins full of compact discs; for the working class Joe who wants to kick up his feet and listen to radio stations from all over the world.
We built this for those of you who still cherish the pleasure of two channel recordings, be they old or new; we encourage you to audition this remarkable product. Yes, we selfishly designed it for ourselves, but we believe that many of you share our passion for music. If that sounds like you, you're in for quite a treat.
Data sheet
Analog Inputs

4 Line Level + 1 Phono

Decoding

No

Digital Inputs

2 Coax; 2 Optical

Input Sensitivity

High Level: 200mV/47kohms MM Phono: 3.3mV/47kohms MC Phono: 0.6mV/47kohms

Power Output

110 watts per channel, 20 Hz - 20kHz, 0.05% THD, both channels driven into 8 ohms 165 watts per channel, 20 Hz - 20kHz, 0.05% THD, both channels driven into 4 ohms

Signal to Noise

96dB Unweighted

Dimensions

5.75" x 17.1" x 16.5"(HxWxD): Including binding posts and front panel controls