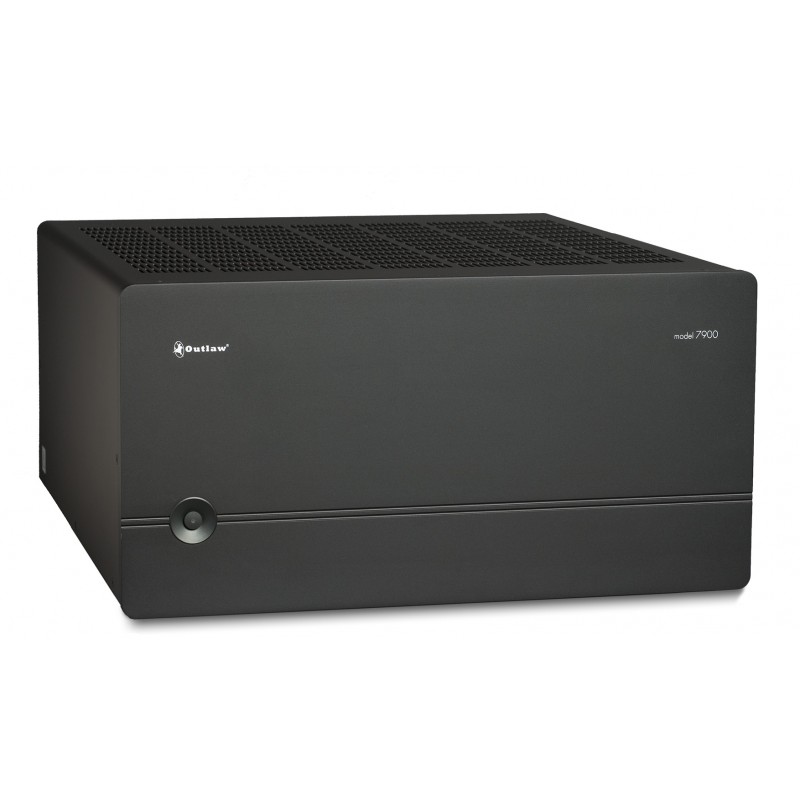 
Model 7900
 Out-of-Stock
This fully balanced power amplifier uses 24 output transistors per channel to deliver an astounding 7x300 watts per channel, all channels driven! This behemoth is so powerful that it needs dual 15A breakers just to run it! 
Twenty-four discrete output devices per channel, 36,000 micro-farads of filter capacitance, dual 15 amp breakers, a fully differential design…and enough power to weld a fender together at a bike shop in Orange County. Of course, that's not why you're here. You are here for the reproduction of every subtle nuance, every slide across a Gibson, the ping of each casing as it falls to the floor in the infamous Matrix "lobby scene".
For many, attaining this level of sonic bliss can be achieved with a mere mortal's amplifier. But for those of you whose listening room looks more like a movie theater than a home theater, or for those of you with speakers that feed on the high-octane "juice", we invite you to audition the Model 7900 power amplifier.
At 300 watts of full bandwidth, all-channels-driven power into 8 ohms the Model 7900 will control your reference speakers with relative ease under conditions that would cause most amplifiers to fail.
In fact, the Model 7900 is so powerful, we're not technically "allowed" to rate this amplifier with 4-ohm speakers under an all channels driven load. Its 450 WPC of output at this impedance will demand 26 amps of combined current draw, technically exceeding the accepted current draw margin for dual 15-amp breakers! However, since no movie has ever been produced requiring all 7 channels to be driven continuously at full bandwidth…well, you can have your power served up any way you like it (we prefer it with popcorn-extra butter, extra salt!)
Data sheet
Crosstalk

Greater than -100 dB from 20 Hz to 20 KHz

Intermodulation Distortion

Less than .02% from 250mV to full rated FTC power

Power Bandwidth

5 Hz - over 100 kHz (+0/-3 dB)

Power Consumption

2x 1,440 watts (maximum)

Power Output

00 watts RMS x 7 (all channels driven simultaneously into 8 ohms from 20 Hz to 20 kHz with less than 0.05% total harmonic distortion).

Signal to Noise

Greater than 120dB; rated FTCfull bandwidth power

Voltage Gain

28dB