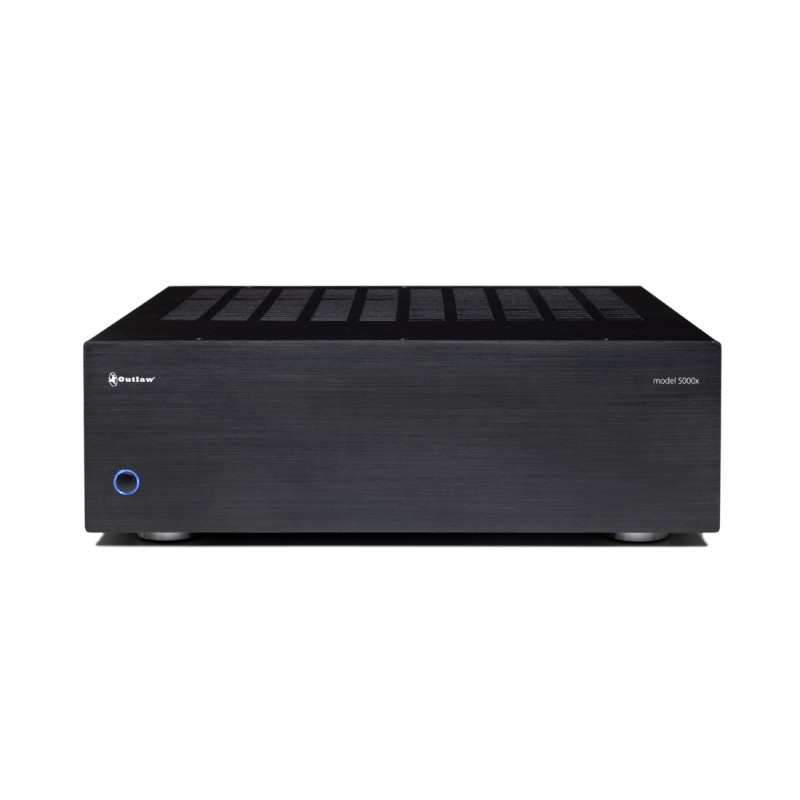 
Model 5000x 5-Channel Amplifier
The Model 5000x is an update on our previous high performance, affordable 5-channel amplifier, the Model 5000. Still rated at 5 x 120 watts into 8 ohms or 5 x 180 watts into 4 ohms (all channels driven), the 5000x is ideal for those who have moderate size living areas and desire a 5-channel home theater. In addition, the Model 5000x offers a balanced input stage, via XLR, to offer external noise cancellation. 
Similar to our Model 7000x, the Model 5000x utilizes a balanced input stage that provides common mode rejection, ensuring high fidelity performance for those who experience EMI or RFI in their listening environment. For those using unbalanced inputs, we continued to utilize a differential-sensing RCA circuit to help reject input hum. 

Noise rejection, neutral, clean amplification, and plenty of dynamic headroom: this is the ideal amp for all but the largest rooms, or for systems with extremely inefficient speakers.
Data sheet
Crosstalk

Greater than -70dB from 20Hz – 20kHz

Frequency Response

20Hz -20kHz +/- 0.5 dB at rated output (120W)

Input Impedance

40KOhms

Input Sensitivity

1.2 Volts

Intermodulation Distortion

Less than 0.05% from 250mV to output full rated output (120W)

Power Output

180 watts RMS x 5 (all channels driven simultaneously into 4 ohms from 20 Hz to 20 kHz with less than 0.03% total harmonic distortion, A-weight filter)

Power Output

120 watts RMS x 5 (all channels driven simultaneously into 8 ohms from 20 Hz to 20 kHz with less than 0.02% total harmonic distortion, A-weight filter).

Signal to Noise

111dB A-Weighted

Dimensions

5.8215" x 17.0" x 16.75" (HxWxD)