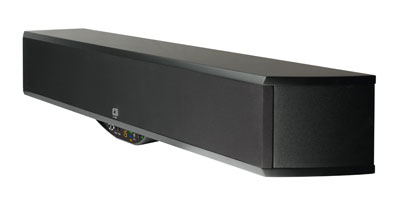 The Outlaw OSB-1 is a 43"-long, self-powered sound bar that delivers multi-channel high-fidelity sound for your home entertainment system. It features the patented H-PAS technology to produce deep, distortion-free bass without the need for a subwoofer!
Using just two 4" woofers, the Outlaw OSB-1 reaches down to a solid 47 Hz at theater-like SPLs, for an absolutely convincing (and totally satisfying), sonic experience. The OSB-1 is the only sound bar with the extended frequency response and dynamics that makes the use of a subwoofer truly optional. For those of you who have a flat panel TV in a room where you are unable or unwilling to put a "black box on the floor," the OSB-1 is the perfect solution.
Of course, there's more to a movie soundtrack than just deep bass, and this Outlaw OSB-1 Sound Bar is no one-trick-pony. The OSB-1 also decodes, amplifies, and reproduces Dolby and DTS soundtracks in a single elegant speaker. Powered by an on-board amplifier with 80 total watts RMS, the net result is an easy to connect and operate, total high-performance system which virtually disappears into the room when mounted near your flat panel display. That makes the Outlaw OSB-1 ideal for small home theaters, second systems, playrooms, bedrooms and more!
The Outlaw OSB-1 Sound Bar's many features include:

User Switchability Display (USD®): Can be "flipped" to read correctly whether unit is "right side up" or "upside down"
Multi Channel DSP using Dolby Digital® and DTS: Creates a 2, 3 or 5 channel virtual sonic landscape for immersive sound
Auto Detect Dolby and DTS for best sound enhanced mode
Lockable front panel buttons for secure settings
Front and Rear IR sensors
Includes a simple remote; but can also be used with most universal remotes
Rear panel Sub out jack for optional subs (IF you're an incorrigible bass hound)