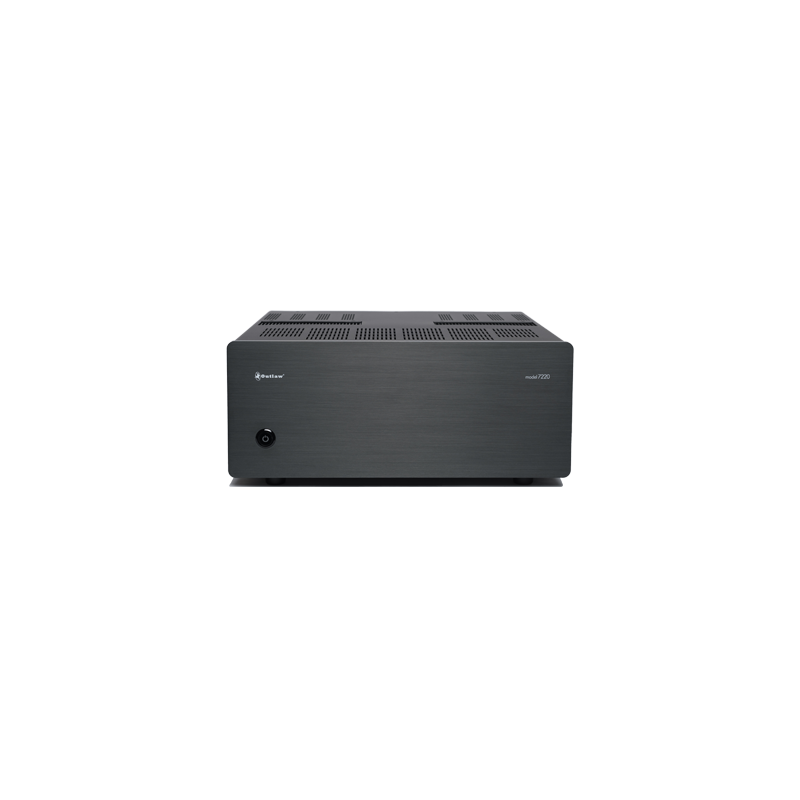 
Model 7220 7-Channel Fully Balanced Amplifier
This all new, fully balanced amplifier offers 220W into an 8 ohm load and sports the best signal to noise ratio of any Outlaw amp! Quiet, clean, accurate, and reliable: all the things an Outlaw loves the most in a power amp.
Review
"As far as we know, the 7220 is the least expensive fully differential multi-channel amplifier on the market. That is quite an impressive feat for Outlaw Audio and we are always thrilled to find companies pushing the envelope of performance while still comfortably maintaining the value aspect to keep a product of this caliber in the reach of most audiophiles." - Audioholics

Our Most Advanced Amplifier Yet

The new Model 7220 Amplifier is a class AB, fully balanced design. It delivers 220W per channel into an 8-ohm load with all seven channels driven. Into 4 ohms it delivers 330W per channel. The signal to noise ratio is greater than 125dB and often approaches 130dB. It operates with virtually no DC offset, runs cooler, and still maintains a class AB operation with two robust toroidal transformers.

Heat & Bias

One problem that amplifier designers encounter is thermal runaway, which impacts an amplifier's reliability and performance. Transistors are used as the output devices for audio amplifiers, and temperature directly affects the performance and operation of transistors. There have been a few different design philosophies for dealing with how the excess heat, and excess bias, negatively affect the lifespan and performance of output transistors. The Model 7220 uses ThermalTRAK® transistors, which employ an internal thermal sensing diode so that bias, and subsequently heat, are adjusted for in real time. This eliminates the thermal lag you often encounter in conventional designs.

Advanced Cooling

Traditionally, the Outlaws have been opposed to using fans for cooling. Active cooling, which utilizes a fan, works wonderfully in some pro audio applications –such as live venues and cinemas. However, in these situations the amplifier is never near the audience. We have always found that fans created too much noise to be used in smaller rooms and home theaters... until now.

The Model 7220 uses a hybrid system of cooling, utilizing both convection cooling, with cool air coming from below, as well as active cooling through the use of a state of the art fan. Having a hybrid system like this makes the design exponentially more efficient. This fan has a remarkably low noise floor and operates below 24dBA. In addition, the speed of the fan adjusts based upon the temperature of the heat sinks. This means when listening to quiet scenes, or quiet tracks, you're never listening to a fan instead of the audio content. With the heat sinks being constantly kept cool, these fans will normally be operating at their lower, quieter speed a majority of the time.

The Model 7220 effortlessly drives speakers with moderate power demands, but it is also fully capable of running systems that require significantly more power. For most of us, even with speaker upgrades, this will be the one home theater component that should remain constant in an industry of ever changing technology. We believe the Model 7220 delivers the best value we've ever offered in a high-performance amplifier!
Data sheet
Input Sensitivity

1.64 Volts

Intermodulation Distortion

Less than .03% from 250mV to full rated FTC power

Power Bandwidth

5 Hz - over 100 kHz (+0/-3 dB)

Power Output

220 watts RMS x 7 (all channels driven simultaneously into 8 ohms from 20 Hz to 20 kHz with less than 0.07% total harmonic distortion). 330 watts RMS x 7 @ 4 ohms

Signal to Noise

Greater than 125dB

Voltage Gain

28dB